DIDs are virtual numbers, eliminating the need for physical phone lines and hardware. They are versatile and are for companies working globally. Businesses can make inbound and outbound calls to countries, create call forwarding, and improve customer satisfaction. DIDs help streamline communication and avoid errors caused by traditional phones.
How does Moitele offer DID management?
Moitele offers DID for over 60 countries, and users can buy numbers with a click. Users should register with Moitele and submit the required information before buying DIDs. 
Users can choose DIDs depending on country, state, and city. Depending on the locality of the number, charges are 15 USD. The recurring monthly costs are 5 USD, and the set-up costs are 10 USD.
How to assign agents to the DID?
Moitele customer portal offers the agents module alongside DIDs for smooth management. Under the agent section, users can create new agent profiles and assign the DID to an agent under the DID section. The first agent accounts free of cost, and after the free account, it is 5 USD per agent. 
Agent data is available for export in CSV file format. Agents can be activated and inactivated with ease. Inactivated agents are notified to the user when assigning the DIDs. 
How to buy new DIDs?
The DID section of the customer portal allows users to purchase and view numbers. DIDs can now be bought under the Agents/DID section. Users can click Buy Phone Number to trigger a new purchase.
If there is an insufficient balance on the user account, users cannot buy DIDs. Users need to have sufficient funds on the portal to purchase DIDs.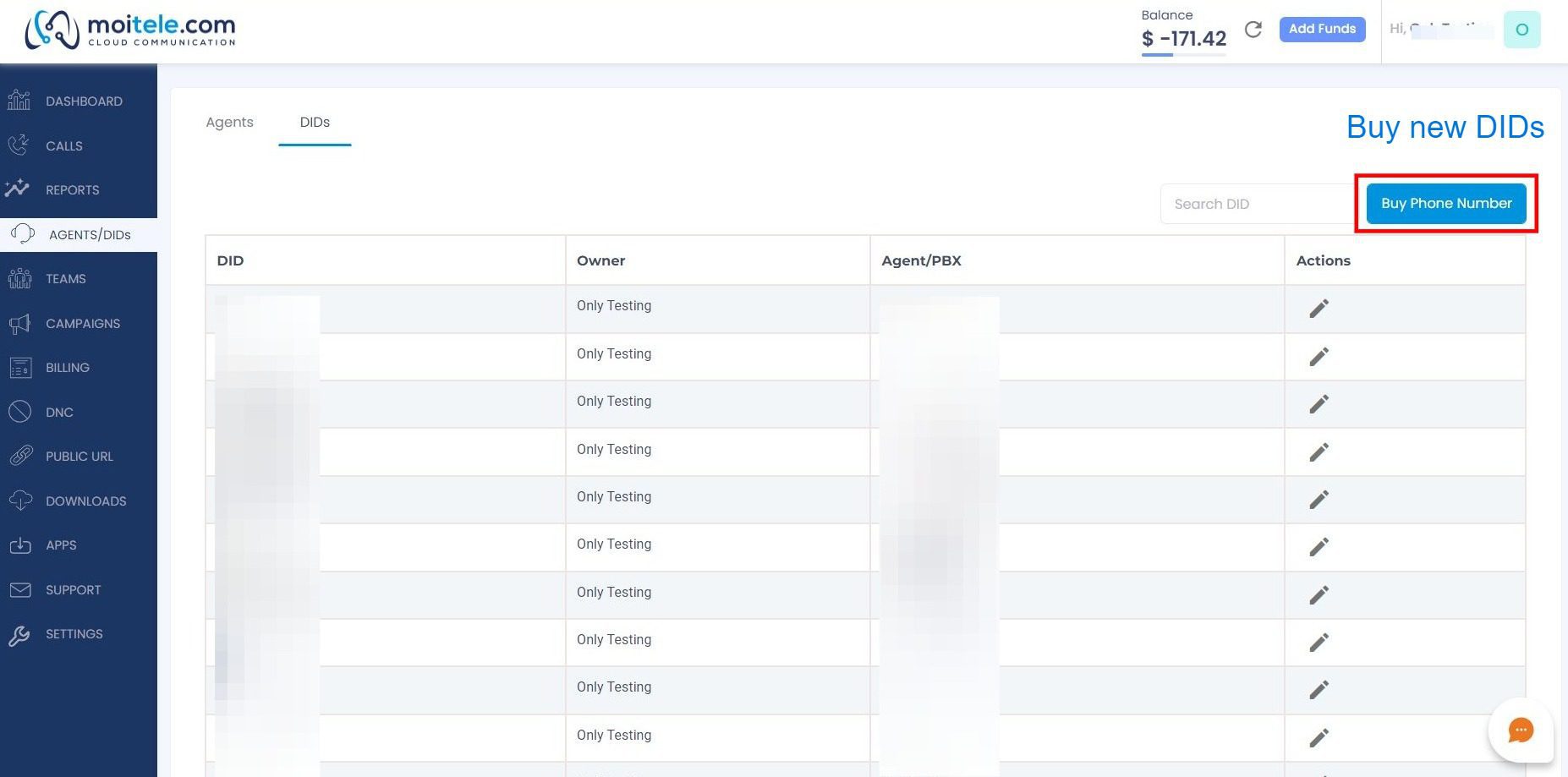 How to set up call forwarding for DIDs? 
Call forwarding helps manage a surge of calls by automatically routing a call to an available number. Call forwarding minimizes the risk of losing customers by routing the call to the closest available representative. 
DIDs are excellent for call forwarding, given they are virtual numbers and are assigned to agents flexibly. Before reaping the benefits of call forwarding, agents must understand what conditions best fit their customers. 
In the Moitele DID management system, users can click edit on a number, assign it to an agent, and set call forwarding conditions. Users can choose how the call gets routed in four different situations: before the call, unanswered, busy, and failed. Each call-forwarding option lets the user direct the call to an existing agent account or a phone number. 
Users can only assign active agents to the call-forwarding and will get notified if an inactive agent is assigned. Call-forwarding is flexible; users can reset and update it as required. Users can also opt out of using call forwarding.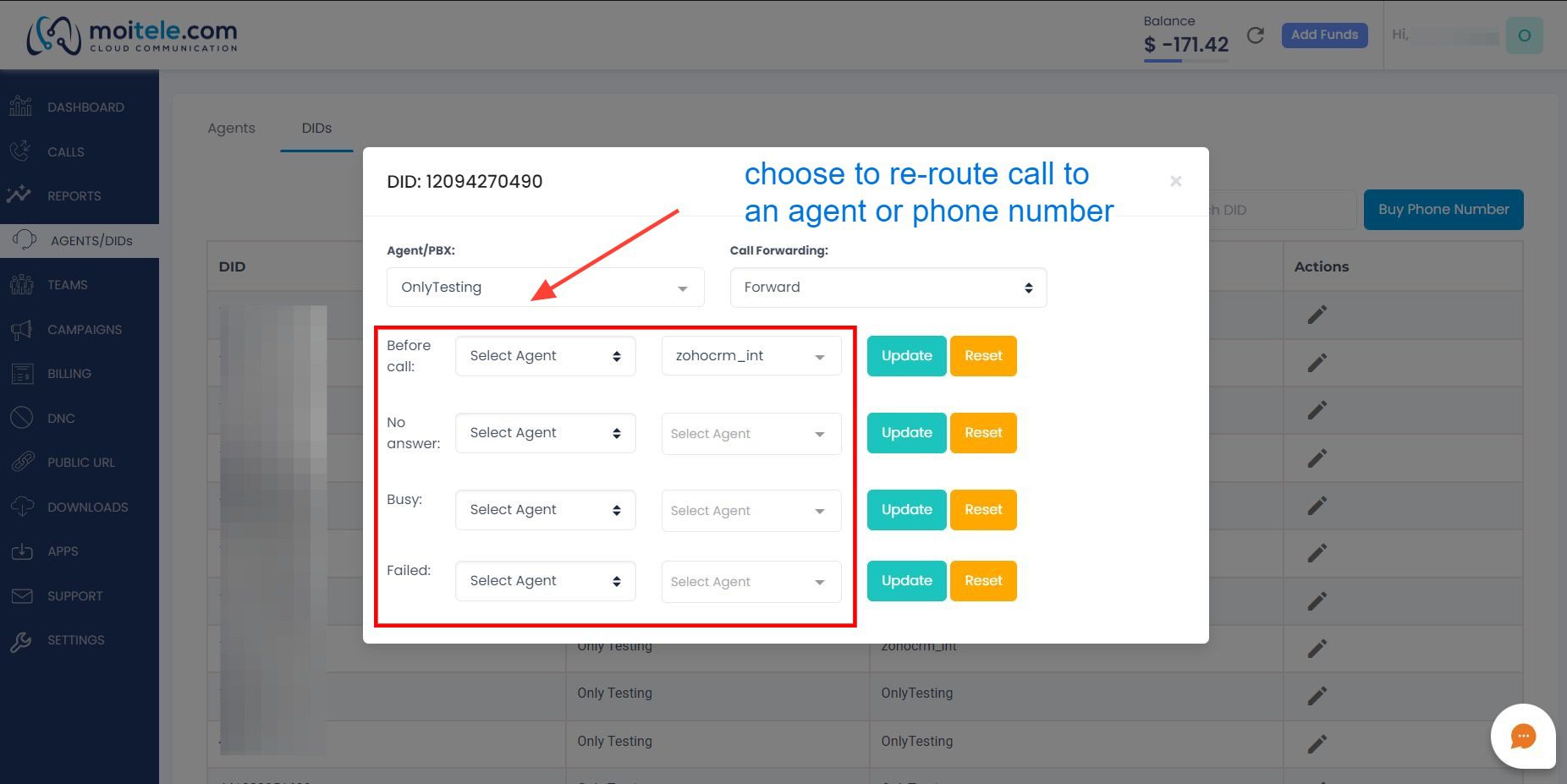 Frequently asked questions:
How much does DID management cost?
The DID management module is an inclusive part of Moitele's customer portal. 
How much do DIDs cost?
The cost of DIDs depends on the country and local area. Users can view the rates when purchasing a new number. 
How can I filter out the DIDs?
Users can filter out DIDs by searching for the phone number.
How can I assign an agent to a DID?
Users can click on edit and assign an active agent from the dropdown menu.
Where can I set call forwarding conditions?
Users can click edit next to the desired DID and set call forwarding conditions.