Every private individual can access applications providing spam checks on incoming numbers. These apps help the consumer flag spam calls and stay protected. Now, what is the situation if you run a business and need to reach out to customers on phone calls? Lead generation companies need to run spam checks on numbers to keep business phone numbers marked as spam. 
Recently, Moitele introduced a Spam Status tool on the customer portal that alerts businesses if numbers are flagged as spam and display the reputation status of numbers using Robokiller. 
We will dive into understanding the importance of running spam checks on numbers and how to use the Moitele Spam Status Tool. Stay tuned at the end of the post to view an exclusive first peek at the tool. 
Why should a business run spam checks on numbers?
Running spam checks on phone numbers helps provide quality and transparent services. A customer is less likely to answer an incoming call marked as spam. When a number is marked as spam more than a couple of times, it damages the business's reputation.
In the long run, spam numbers will decrease contact center productivity and affect the business. The Spam Status tool from Moitele offers insights into call connectivity issues, and when paired with our Call Probability Index, users can learn the probability of incoming and outgoing calls. 
The Moitele Call Probability Index tool helps users understand the probability of phone numbers when pasted on the softphone. 
How do spam numbers cause connectivity problems?
Third-party applications on smartphones alert a consumer when calls are spam. If your business uses numbers marked as spam, it results in lower call connectivity. Often businesses wonder why the calls are not connecting, and with the Spam Status tool, they can avoid the spam flag and connect with customers.
Businesses should follow compliance and add numbers to a blocked list when leads do not want further contact. Many agents work during different shifts and may use the same phone number in contact centers. Streamlining information on blocked numbers prevents agents from dialing the number and maintains the business reputation. 
We highly recommend our customers use the Spam Status tools with our compliance management module to protect business reputation and follow compliance laws. 
How to use the Spam Status Tool?
The spam status tool is available in the customer portal to all Moitele customers at no additional charge. Users can log in to the customer portal and navigate to the Agents/DIDs section. The spam status tool is available next to Caller IDs and DIDs. (as seen in the image below)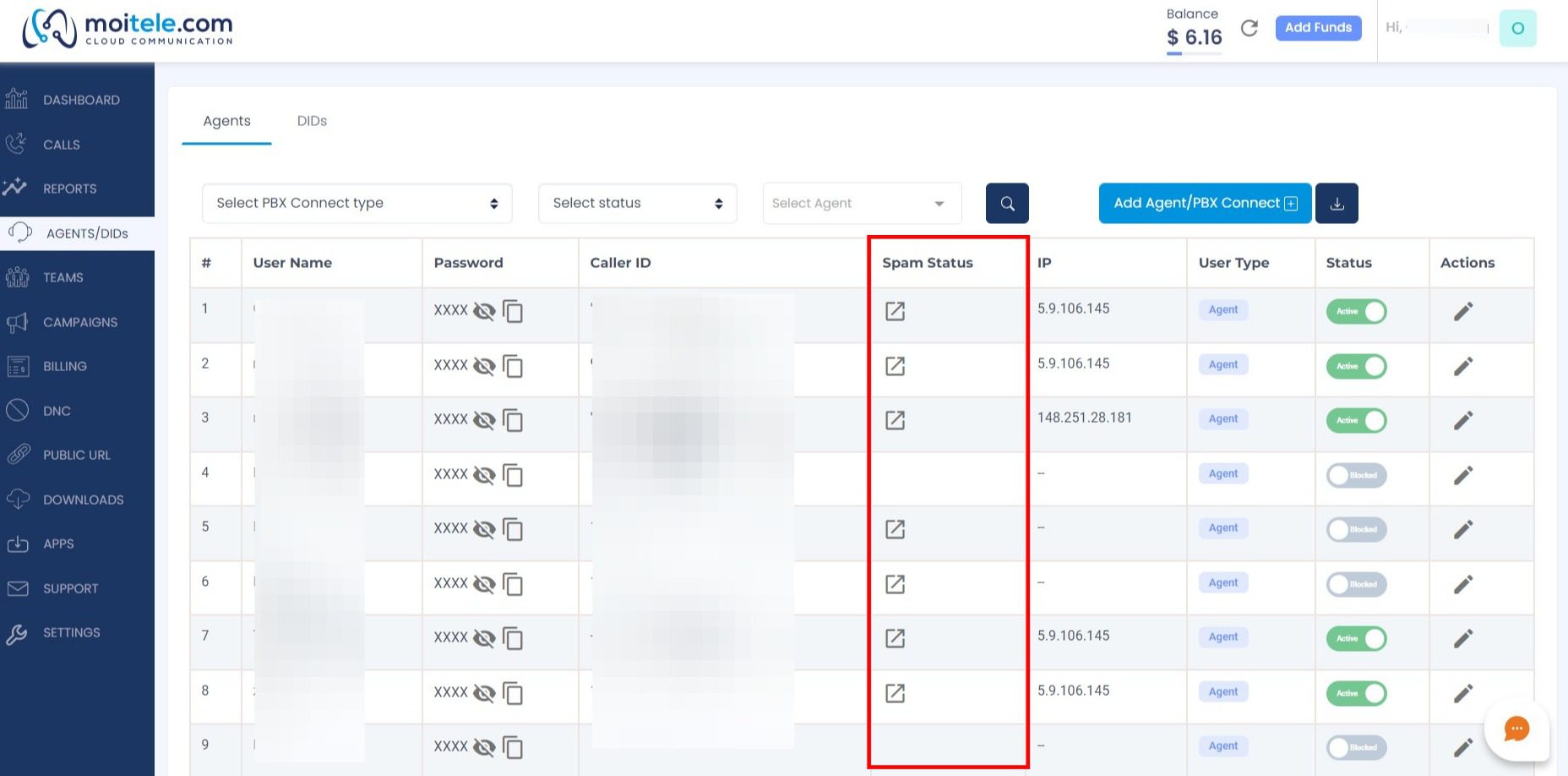 Users can click the button next to a Caller ID to initiate the spam check. After clicking the spam check button, Users are on the Robokiller page and view key stats such as reputation status, spam status, last call, total calls, and spam report status.
Watch the user tutorial below:
Get an exclusive sneak peek into the Spam Status tool below, and follow us on social media for more software updates and content 💙